Making a presentation is a time-consuming process as you have to research on the Internet, find out data, then arrange them orderly and so on. However, finding a suitable template to put all your research work is not a difficult task at all. There are many best websites for free PowerPoint templates available to help you out.
These websites host thousands of amazing templates for different niches like travel, education, technology, nature, health, business, weddings, birthdays, and more. You can download them easily and use them to make your presentation.
Rather than creating simple text Word documents, you can prefer visually rich PowerPoint presentations in many cases. To make PowerPoint slides you will need templates to make your presentation professional and appealing. So the following websites will provide you with those PowerPoint templates.
Moreover, you can also edit the template as per your requirement to make the presentation beautiful and effective.
Best Websites to Get Free PowerPoint Templates
Here we compiled some useful websites, now take a look at them.
Showeet is a widely used website on office desks for free PowerPoint templates. You can easily find templates across categories like business, fun, green, pattern, and others.
To make your work even easier each template comes with preview images and guiding tips to use them perfectly.
They continuously add new attractive templates, but to get instant updates you can follow their social media accounts or subscribe to their RSS.
Behance is a suitable website for professional PowerPoint templates for free download. It has a wide database of many creative templates.
To find templates as per your requirement, you can use filters like curated, most appreciated, most viewed, Infographic, business, etc.
You can see the preview of the template, so you get an idea of what your deck will look like before you download it.
SlideUpLife is another widely used website for downloading eye-pleasing PowerPoint presentations. There are over 45K+ professional PowerPoint templates to suit all your business needs. Whether you are searching for design inspiration for marketing, management, sales, or finance, SlideUpLife will get you covered.
So you don't have to start from scratch or search for PPT templates separately. You can add visual aids, 3D models, and images, to make an engaging presentation. The templates available on this platform are fully compatible with Google Slides. So you can easily collaborate with other team members on the go. No graphic designing or technical skill is required to create a PPT presentation using these templates.
Slide Model is one of the best websites for free PowerPoint templates. It has over 20,000 high-quality templates and designs for business and other uses.
All the templates and slides available on this site are easily editable on PowerPoint, Keynote, Google Slide, and OpenOffice. You can edit the color, size, points, and curves.
It has both free as well as premium services. The free version has some limitations, whereas the premium version allows unlimited downloads.
This website has an extensive collection of PowerPoint templates that you can download for free and use in your presentation work.
You can also select templates across categories like education, technology, medical, music, green, Food & drink, lifestyle, and more.
However, the drawback of this website is the templates you download from this site aren't stored as PPTX files, but as archives.
Slidegeeks has a huge database of free editable PowerPoint templates and presentation backgrounds. It also offers professional presentation themes on all industries like marketing, finance, Leadership, and more.
Its cutting-edge PowerPoint templates help to create attractive and modern slides. You can edit these templates as per your requirement like removing bullet points and using eye-catching graphics, using bright colors and minimalist design to amaze your client or audience.
Every PPT design available on this website is customizable as per your presentation requirements. Change the colors, font, and size of the PowerPoint diagram without any decline in resolution.
It also keeps adding new PowerPoint slide templates, backgrounds, and PPTs, so you will get more different options to choose from.
Fppt is one of the websites for free PowerPoint templates. Here, you can find templates across categories like nature, business, wedding, abstract, graduation, religious, and more.
To find templates as per your requirement, you can use filters like categories, tags, themes, keywords, backgrounds, etc. You can also read users' comments on the template page to make your selection easier.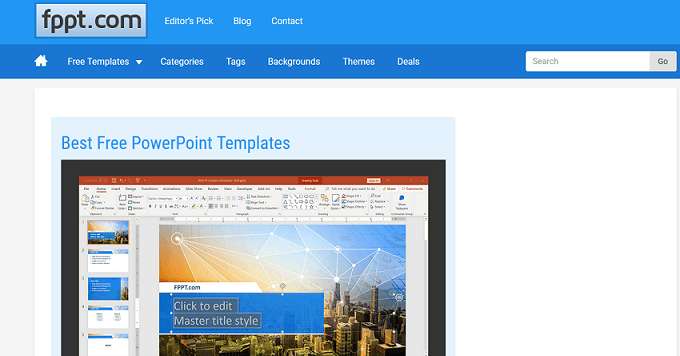 Moreover, you don't have to register to download any template on your device. However, the downloading of the high-resolution template might take a little longer and there aren't enough screenshots available to check more details about the template.
This website has a wide collection of PowerPoint templates across several categories like Animal, Architecture, Birthday, Business, Calendar, maps, engineering, educational, Nature, Pattern, and more.
Here, you will get both regular as well as animated templates. You can also narrow down your selection by using filters like tags, color, popularity, etc.
The downloading process is easy and quick, so you'll get to use the templates immediately after downloading them as it is not stored in archives.
Leawo brings free PowerPoint templates such as education, business, scenery, weddings, Christmas, Father's Day, Mother's Day, and more. If you are searching for templates for business presentations, and want to impress your boss, then head to this website and you will get hundreds of awesome PowerPoint templates.
You can search for templates as per your requirement download them easily and customize them as well.
24Slides is a wonderful website to download free PowerPoint templates. It has a clean and clutter-free user interface which makes browsing a lot easier.
You can also filter the templates by featured, most popular, maps, corporate, creative, etc. For slides to use on Google Sheets, the website has a separate section for it to explore.
It also provides preview screenshots of templates, so you'll get a better idea of it. All the templates are downloaded directly in PPTX format, so it will be easy to use them while making a presentation.
Slide Hunter offers free editable PowerPoint templates under categories like strategy, timeline, 3D, arrows, education, planning, and charts.
Some templates have few screenshots, while some have more but all of them are helpful to make your presentation effective.
The templates download in a ZIP file and you have to extract them before using them on presentation. The website also has an RSS feed where you will get information about the latest updates.
Graphic Panda has a massive collection of templates for business, education, sales, marketing, nature, and many other fields as well. No need to set a reminder and rush before submitting a presentation. Just find the right templates and before the deadline.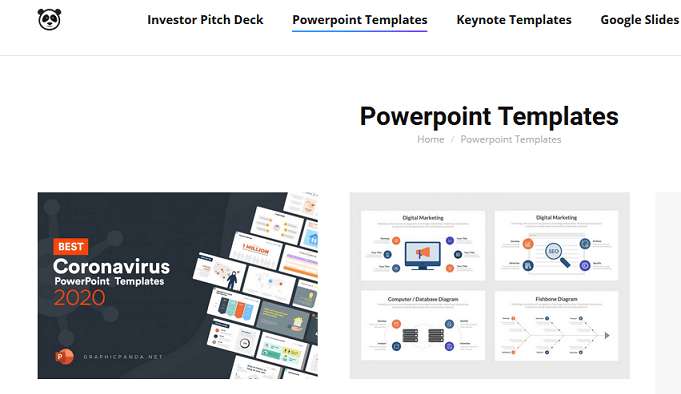 Along with PowerPoint templates, it also has Keynote templates, Google slides, and Infographic templates. You can select the category as per your need and download the template that suits the most.
PowerPoint Styles is a wonderful website to get presentation slides for free. You can filter these slides through sections like the Latest added, Top views, Top downloads, or browse according to categories, tags, and color.
All these slides are ready to use with Office PowerPoint or Open Office, and they can also be imported and used with Google Slides. Every template comes with screenshots from which you can check how they will look on the presentation.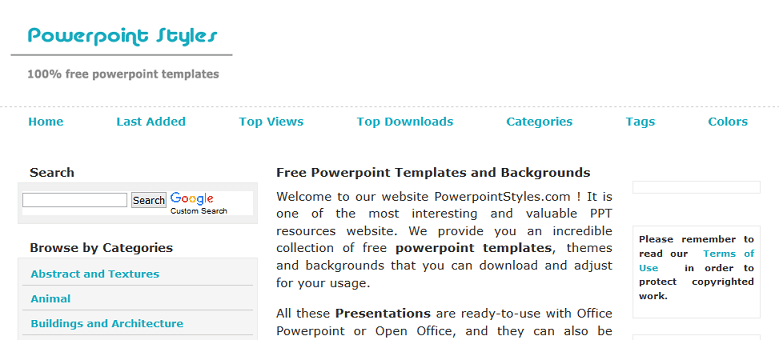 If you are looking for templates with any specific color, then you can choose from black, red, blue, yellow, white, etc. They also add new templates over time, which can be discovered easily.
Slide Carnival is one of the best websites for free PowerPoint templates. It includes templates for different uses as a business, start-up, formal, creative, simple, elegant, and more.
All the templates are customizable and provide information about why they will be suitable for your work. They also come with the necessary elements that will make your presentation effective.
It allows you to download your presentation as a PowerPoint template or use it online as a Google Slides theme. You can also export your slides in formats like PDF, JPG, PNG, etc.
Google Slides offers many creative, simple, and formal PowerPoint templates for free. You can easily download a template as per your requirement put all your research data in it and present it in front of your client or audience. You can also use Google Slide mobile app and this is one of the best Google apps that should be on your smartphone if you have a regular requirement of slides.
No need to create an account to download templates. Moreover, all templates come with some information, which helps in creating presentations. You can directly open the template on Google Slides or download them in PowerPoint.
Templatewise has a catalog of free editable PowerPoint templates for different topics like Finance & Money, Food & Drink, Business, Computer & Internet, and more.
It also includes charts and diagrams, Infographics, Icons, and Music loops which you can use in your presentation to make it remarkable. They also upload new attractive templates, which you can easily access to amaze your audience.
Conclusion
To impress your client or investor you need a powerful presentation and these best websites for free PowerPoint templates will help you to do that. No matter which topic you are looking to make your presentation, you'll get the required templates on these websites for free.