All human beings have their own life stories. The episode is a game related to real-life situations that one can easily relate with. Some situations like high school days, watching movies, out for a date, etc.
Episode game is a very popular game in these categories and you can easily get it on Play Store and app store. But if you are searching for some games like Episode, then you might glad to know that there are many.
Episode game alternatives
We have shortlisted some of the best Episode game alternatives that you can play in your Android and iOS devices.
1. What's Your Story
Have you ever wish to be in the TV shows that you are watching? If yes then this app will give you a chance to replicate the same scenario.
First, you need to choose a path in this game. This path will decide the rest of the things. Then interduce yourself in the game and make your presence.
Choose your customs, hairstyles outfits accessories and others. This will make you unique in the show and you also noticed that. Then choose whom you want to love in this game. There are several virtual girls in this game and you can choose from them.
Then the real story begins. You have to choose a story that you are going to perform in this game. All your moves will be done virtually and you feel like its real.
What's your story is available for free in Play Store and iTunes. They also provide a subscription-based service where that starts from $4.99 per week. Set a reminder if you don't want to miss the weekly billing. This plan enables some additional features and you can get the most out of it.
Download From Play Store Download From iTunes
2. Lovestruck Choose Your Romance
If you want to love romantic stories then this app is for you. This is this unique visual romance novel game and you will get the feeling of real love stories.
Like in the novel stories, you will find action, romance, comedy, mysteries, mythology, etc. All the stories will be in the emulator style and you will be a character in the story.
Choose a character from more than 60 characters. This character will be will you in this game. Currently, there are more than 15 stories in this game. You can choose one of them. Each game is designed to give you a different flavor and you would really enjoy it.
Download From Play Store Download From iTunes
3. Chapters: Interactive Stories
Chapters is a unique and well-known game in this category. The game contains many interactive stories that let you choose your path in every story.
They have categorized the stories in different parts. You will find stories of romance, young adult, fantasy, sci-fi, comedy, and drama series.
First, choose the story that you want to play. Then take your costume and other accessories. Read through pages and pages that appear in the game with various visual arts and have some fun with these interactive stories that fit your mood.
Download From Play Store Download From iTunes
4. Choices: Stories You Play
Choices are the most popular game in this category next to Episode. If you are searching for games like Episode then this the one that best fits for you.
It contains the best collection of story games in the world. Each story is unique and you will get some different experience.
Choose a story from the extensive collection and customize your main character. Then you are ready to dive into the game. Fall in love, solve crimes (be a detective) and embark on epic fantasy adventures.
The cool part of this game is, they are adding a new story each week. So you would never run out of stories.
Download From Play Store Download From iTunes
5. Heartbeat: My Choices, My Episode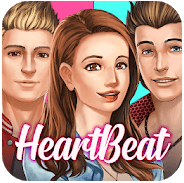 Heartbeat is a popular love game for girls. If you are ready to fall in love and create your own love story then just dive into the game.
Choice a character and you are ready to start your romantic journey. You are the heroine of every love story that you have to choose and you control how the love life goes. Every move of you will affect the entire game, so choose wisely.
Not only you will find a boyfriend to date in this game, but you also get the experience of college drama, adventure like a teenager, enjoy the love with celebrities, etc.
Download From Play Store Download From iTunes
6. Friends Forever – Indian Stories
If you are from India and want to play a game having similarities with Episode, then Friends Forever is best fits for you.
In this game, you will find a lot of visually interactive stories that contain some morality. Every story is based on some real-life examples and some are hypothetical as well. But when you would be a part of this story in this game then you will know the reality.
Experience the stories ranges from drama to comedy, from mystery to fantasy. Some part of the games comes interesting because there would be real simulations. Like traveling to a place or riding vehicles.
This app is now available in 6 different languages and you will get a different adventure each time you play a new story.
Download From Play Store Download From iTunes
7. High School Story
If you want to simulate the golden days of the high schools, this is a nice game. Everyone has a unique experience with the high school days and want to repeat if they get a chance.
This game is designed to give you the real experience of those days and you will recall the same when you will be inside the game. You might want to dance with your classmates. So you can learn dancing with some dancing apps as well in real life.
Build your school, attend parties with new friends at homecoming, play matchmaker, go on wild trips with your classmates, etc.
Download From Play Store Download From iTunes
8. Romance Club – Stories I Play
As the name suggests, the game contains various love and romantic stories. If you ever dreamed of being a character in your favorite story then this game is for you.
Customize your avatar and makes it awesome. There are a lot of outfits, hairstyles, and accessories available that you can use to make yourself awesome.
Be in a relation and date cute guys and girls. Also, experience the drama to fantasy and adventure. All the whole game is virtually rich and you will feel like in real-time. Every game will give you a different experience and new stories are added at regular intervals.
Download From Play Store Download From iTunes
9. Destiny Ninja
Do you love to watch Ninja warriors? Then this game is for you. Density Ninja is based on the real-life Ninja warriors.
Destiny Ninja is a popular novel type simulation game that featured the era of Genpei in Japan. The game is rich with visual graphics and you will love the way of representation of the games.
Each story is unique and you would have conversations between you and your chosen character. You can enjoy a number of awesome adventures with a variety of characters and stories.
Download From Play Store Download From iTunes
10. The Simpsons: Tapped Out
Are you missing the Simpsons cartoon character? Then this game is helpful to simulate the real fun world of Simpsons.
The fun starts when you start building your own Springfield. Unlock your favorite characters, explore new cities and you will always something new and interesting in every move you make in the game.
You would be surprised to know that, every story featured in this game is written by the original writers of The Simpsons. You would have a lot of fun.
Download From Play Store Download From iTunes
11. Stories: Your Choice
Stories game is a collection of stories in different categories like action, mystery, adventure, horror, magic, crime, and more. No matter which story you choose, you will get the experience of real-life stories.
Choose your characters and design them through various costumes, hairstyles, etc. Then dive into a story. Choose your character's personality. You will be a hero or a villain in it depending on your choice.
Stories are updated in this game regularly, so you will always have something new to play.
Download From Play Store Download From iTunes
12. Fictions: Choose your emotions
This is an interactive novel based story game. Choose a game and your adventure journey begins. There are various stories in different flavors and you would love it.
Design your character that you are going to be featured in that story. Depending on your choice, you would play a role in the story. Each story is full of action, drama, adventure, and mysteries.
Play the role that is assigned to you. Remembered that each move will be counted and the remaining stories would be defined based on that.
Download From Play Store Download From iTunes
13. Hollywood Story
Have you ever wanted to be like your favorite Hollywood star? Then your wish might be fulfilled through this game.
The journey started with selecting a movie star. Create your own movie star. Then shape your avatar, choose fashion style, choose your clothing, hairstyle, and make-up. Leave your own unique mark through these costumes on the movie industry.
Build your own movie star career and do what the Hollywood celebrities are doing. Walk on the red carpets throughout the city, hang out with your fans, friends, and followers, create own fashion trends, shoot awesome blockbusters and become a true Hollywood icon.
Each story in this app will walk you through the day to day life of Hollywood celebrities.
Download From Play Store Download From iTunes
14. ZOE: Interactive Story
If you want to read some fantasy stories having a lot of mysteries and adventures, then this game is for you.
The story is like a horror movie having some dark world characters. Choose your character and shape the story. Customize the virtual character, that would be playing the role in the story.
Each move you make in this game would decide the flow of the story so make it wisely.
Download From Play Store Download From iTunes
15. The Arcana
Arcana is a popular game and best fits to the mysteries lovers. Each story in this game is full of adventures and contains visual novels.
There are six unique characters in this game and everyone has some specialty or role to play in this game. You have to proceed with the game by maintaining your role in the story.
You can play a single character or multiple at once. The choice is yours. Each episode has a garden of options for you to roleplay. All the characters in this game seem like the characters from anime series.
Download From Play Store Download From iTunes
Conclusion
So these are some of the best games like Episode. If you have played the Episode game and want something more interesting games to play then these games would be helpful for you.