You might have heard that solve puzzles increases your IQ level yes! True. But not everyone can able to solve puzzles. To make your mind sharp and refreshing it is a great choice to go after the best puzzle games for Android.
Since puzzle games challenge your brain, so you get a lot of pleasure after solving any kind of puzzle.
It is a good decision to play puzzle games instead of playing any other video games. Because it not only compels you to think but also crushes your brain and makes it better day by day.
Since it is the age of smartphones so what is the better option than it to play games anywhere you want.
The touchscreen effect of smartphones offers instinctive control for puzzle games. It is easy to carry and you can play your favorite puzzle game whenever you have free time.
List of best puzzle games for Android
So, you have decided to play puzzle games and readily give some exercise to your brain?
Now going to download best puzzle game for your device. This is where the Google Play store shines with an entire category of puzzle games.
But you might get confused to choose the right one, as there is a plethora of option available on puzzle games. Some are free to use and for some, you have to pay.
Here I'm with the list of five free and five paid best puzzle games for Android to shorten your search time. So, without going anywhere else you can jump to the list and choose your favorite one.
Let's start
5 free puzzle games
Let's see some of the best free puzzle games.
1. Threes
Threes is free and an awesome puzzle game for Android.
The rule to play is very easy, you just have to add 1 with 2 to make 3. Then combine the like numbers to double them.
It seems to be very easy, but you have got to be strategic because when you run out off move, the game is over! And you can see how much you scored.
Three comes with charming aesthetic look and loveable background music which holds you on it.
From the very first time you play it, you will get addicted to it.
2. Brain It On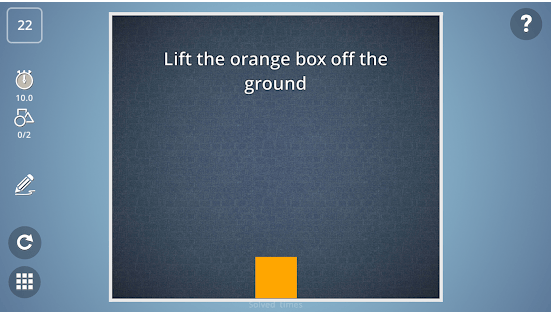 Brain it on is a completely physics-based puzzle game, which forces you to think to solve each level of the game.
You have to draw lines, shapes and weight objects or whatever you think may solve each level of the game.
It is not the game in which you only stick to one solution, you can think differently and explore yourself to find another solution for solving a single puzzle.
As you progress through over 200 levels things will be hard for you, as it demands three stars to unlock new levels. With a little more effort you can securely do it.
3. 2048
2048 is a popular, funny and classic puzzle game. This simple number puzzle game can make you addictive to it with time.
Playing this game is very simple. Swipe Up, Down, Right or left to move the tiles. When two tiles with the same number match, they converge into one. To create a higher number. If you successfully create 2048 tiles, you will win.
2048 also includes various grid size which you can choose from tiny (3×3) up to huge (8×8).
It doesn't charge you anything and free to use. It is one of the best free puzzle game for Android.
4. Faraway 3 Arctic Escape
Faraway 3 is another interesting and mind-bending puzzle game with which you can explore new exciting locations.
This is basically a room escape game which will challenge your puzzle solving ability at each level of the game.
This game has 18 stages with different escape puzzle at each level. It offers you a 3D environment and ambient background soundtrack to enjoy the game with more excitement.
The previous two versions are also quite brilliant and if you want to play Faraway 3 Arctic Escape, it will give proper exercise to your mind.
The first nine levels are free of cost but to enjoy the rest levels you have to pay a little i.e $3.99.
5. Cut The Rope 2
Cut The Rope 2 is the second version of Cut The Rope series.
Cutting the rope delivers sweet treats to a cute green character 'Om Nom' who love candies.
This game includes 168 entirely new level of rope cutting with mind blogging action.
Find all the 7- characters called 'Nommies', the friends of 'Om Nom' which helps you to solve the puzzles.
All the 168 levels will take you through lush forests, busy cities, junkyards, and underground tunnels, with only one goal to collect candies.
This puzzle game makes you addictive with it from the very first time and you will experience completely new graphics, sound, and gameplay elements, including the ability to move Om Nom.
5 paid puzzle games
1. The Room Series
The Room Series is one of the widest and oldest puzzle game franchise for Android.
This series consists of four puzzle games, out of which the first two are classical puzzle games. You have to solve the puzzles to proceed until you finish the game.
The third one in the list offers you multiple endings and a slightly heavier narrative. The fourth one is the latest 'The Room Old Sins'. Its story focus on a peculiar dollhouse found in the attic of the home of a brilliant engineer.
All four games are classical and lie some similarities like excellent graphics, escape room elements and smart puzzle designs.
Also, read – Best Android strategy games
They also offer you great control over the games like swiping around the screen and double tap to zoom on an object or puzzle.
These are the long and intriguing puzzle games but as you proceed through the game, you'll discover objects which will help you to solve the mystery.
For each part of Room series, you have to spend money but after planning them you will get worth of it.
2. Bridge Constructor Portal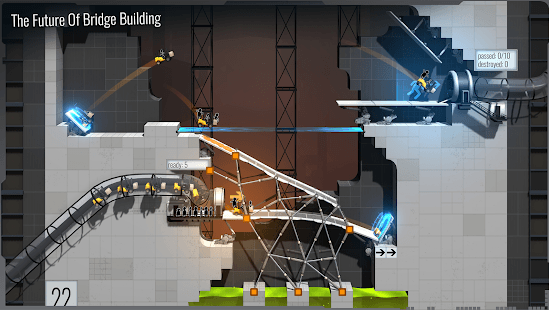 Bridge Constructor Portal is a physics-based puzzle game between bridge Constructor and Portal.
As a new member in the Aperture science test lab, your job is to build bridges, ramps, slides, and other constructions in 60 test chambers and get the Bendies safely across the finish line in their vehicles.
During 60 test chambers you can use many Portal gadgets like portals, propulsion gel, repulsion gel, cubes, aerial faith plates, and more to bypass the sentry turrets, laser barriers and acid pools, solve switch puzzles, and make it through the test chambers without a scratch.
You have to spend $ 4.99 on this excellent puzzle game but it is worth it.
3. Monument Valley 1 And 2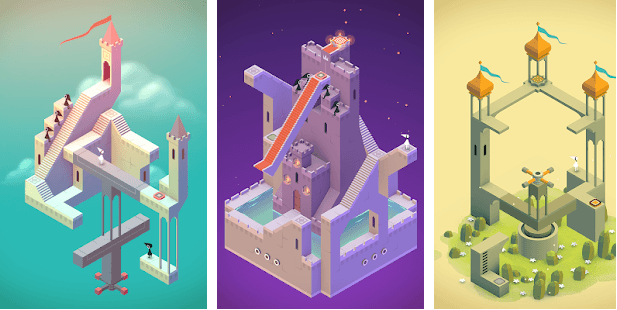 Monument Valley 1 and 2 are two popular puzzle games which feature an amazing sound and visual quality.
In 'Monument Valley 1' you guide a silent princess through a stunningly beautiful world, you must manipulate and change the path to reach her goal.
In 'Monument Valley 2' you guide a mother and her child as they stick on a journey through magical architecture, discovering illusionary pathways and delightful puzzles as you learn the secrets of the Sacred Geometry.
These game aren't difficult or you won't get into a frustrating position at the time of solving puzzles. Rather than you will enjoy minimal 3D graphics and relaxing sound.
As these are paid games, so you will have to pay $3.99 for Monument Valley 1 and $4.99 for Monument Valley 2.
Download Monument Valley 1 Here
Download Monument Valley 2 Here
4. Limbo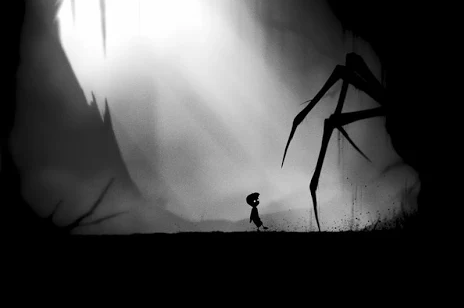 Limbo is an unsettling as puzzler come. Its sound quality is the excellent and visual effect is remarkably outstanding.
The puzzle becomes more complicated as you progress along with the game but it will not be so difficult that you will be completely disappointed.
When you start playing, it put you in command to guide a flexible young boy, who has a penchant for dying in horrible ways.
Also, read – Best funny face video apps for Android
Your task is to guide him through the netherworld, which allegedly consists of exceeding difficult puzzles, as he searches for his sister.
From the very first time, you will get addicted to it. It the game in which you will get more experience rather than difficulties or challenges.
Limbo cost you around $4.4 but trust me you will get worth of it.
5. Lara craft Go
Lara craft Go is a puzzle – adventurous game. In which you have to unveil the demolish of an ancient civilization, discover well-kept secrets and face deadly challenges as you uncover the myth of the Queen of Venom.
As it is full of adventurous, you will enjoy its element of action, rich visual effect, and pleasant background music.
Collect ancient objects to unlock a new outfit for Lara. As you progress through the game and manage to solve more than 115 levels, you will split into 7-characters.
Once you start to play, you will enjoy its great graphics and soundtrack and won't want to leave it.
You have to pay $1.10 to enjoy its adventures.
Conclusion
So, these are the 10 best puzzle games for Android from which five are free and for other fives, you have to pay.
In the list, I tried to touch every category of puzzles like a word game, casual puzzle games, actions as well as adventures.
From which you can choose your favorite one and solve the puzzles at different levels of the game by putting some pressure on your brain and make it sharp.
It is surely a better option to play puzzle games rather than play other video games because it not only boost your problem-solving skills but also makes you sensible.
So, which puzzle game is in your Smartphone now? Or which one you decided to download from the list? If you know any other best puzzle games for Android comment down below.