Are you searching for the best PDF compressor? Then you are in the right place.
We are now in the digital age. To tie off with the growing technologies we have to walk a step to step with them.
As the internet and computer have become our part of life, we can't imagine a world without this. We may imagine but, it will be so boring. Who needs a life like that?
We are using various document file formats like PDF, word, excel, .txt, etc. in our day to day life. We may say that life is surrounded by some file format.
The most famous file format is PDF (Portable Document Format). As the name suggests, it is good to carry forward. But sometimes the file size is too large to send or to use. Then we have a big question mark, how to compress a PDF file?
Then we are in a hurry to find the best PDF compressor that can do our job.
Unfortunately, there are hundreds of PDF compressor software available. You can compress large PDF files in various ways like, online and offline as well. Then how you choose the best one among them?
Some people are very much aware of their computer/laptop. They don't install unnecessary software and tools. So, whatever may be the resign they just hate it.
Why install a heavy software if we do this work online? Yes, you can compress a PDF file without losing quality.
You may also go for some offline methods as well. We will discuss that later.
So let's get started.
What is PDF?
Let's define the PDF first. I think not needed at this point in time. However, let me define as a formality.
The PDF means Portable Document Format (PDF). It is a file format developed by Adobe in the 1990s to present documents. A PDF file can include text formatting and images. It is completely based on the PostScript language. PDF was standardized as an open format, ISO 32000, in 2008.
Each PDF file encapsulates a complete description of a fixed-layout flat document, fonts, raster images, vector graphics, including the text and other information needed to display it.
The PDF also provides encryption and digital signatures in it. This file format is independent of application software, hardware, and operating systems.
These are some of the basic information regarding PDF file. Let's move forward.
Things to consider
Now we have a clear idea of what is a PDF file. Here our requirement is to find the best PDF compressor online.
Before going to discuss anything else let me clear one thing.
When you are looking for a best PDF compressor, consider these three points.
First thing is that your file is effectively compressed to a smaller size than before. Second, the output quality should not be decreased. We can't compromise with the quality. Third may be an optional one. There may have different compression rates to choose from.
So I assume that you have taken the above consideration points well. So let's start with the online method first.
Best PDF compressor online
Here is a list of websites you can try straight away. No need to wait for PDF software to install and all.
1. Sodapdf
Our list starts with Sodapdf. If you searching for the "best PDF compressor online" in Google, then there may a change you will find this website in the first search result.
This is one of the most trusted and well-known PDF compressor. It has over 2200 excellent reviews.
The web interface is nice looking and simple. You can drag and drop your PDF file into this. You can choose the file from your local computer or from Google Drive or Dropbox.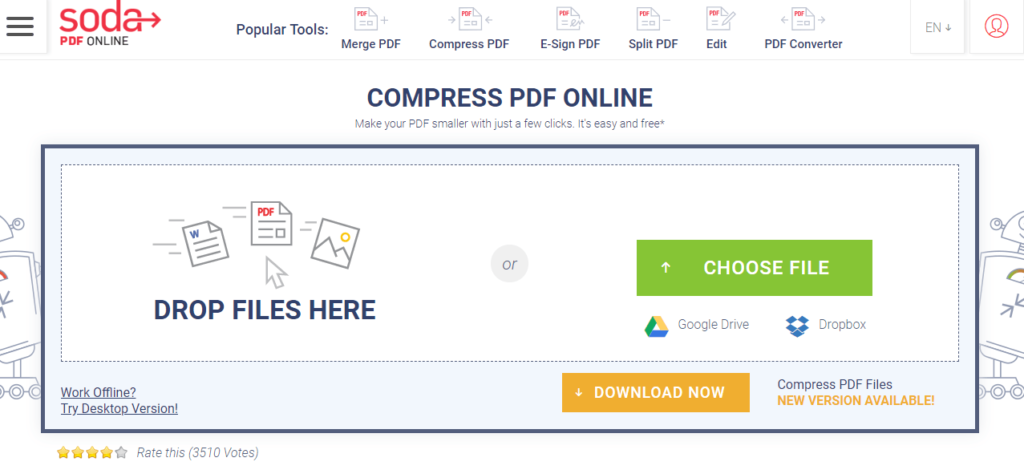 Now, this has a desktop version available. You may try for it as an offline version.
You can read some instructions on the website.
Besides PDF compression, there are many other converters available. You can see it at the bottom of the page.
2. Online2pdf
Online2pdf is also a good PDF compressor online tool. The web interface looks quite old but performs well.
You can compress a large PDF file to small without losing quality. There is a limitation. You can't compress more than 100 MB file. The combination must not exceed 150 MB.
You can drag and drop your PDF file to its web interface. After that just press the red convert button.
This website claim that it maintains your privacy and never save your PDF file to their server.
This lightweight and quite good. You may go for it.
3. Pdfcompressor
Pdfcompressor is another good to go PDF compressor. The web interface is quite simple.
You can compress the PDF file without losing quality. You can able to zoom without bluer and can easily print. After compressing you can publish it on web pages, sharing on social networks or sending by email.
Select PDF files from your computer or drag them to the drop area. You can upload up to 20 files at a time. You can download each file individually, or you can download all files at once in a ZIP archive format. For this, you have to just press the download all button.
Also, read – Best Youtube to WAV converter
Except for PDF compressing, this site also provides a wide range of conversion tools. The tools are like PDF to DOC, PDF to text, PDF to JPEG, etc.
4. PDF2Go
You can also try PDF2Go. The webpage is quite simple and nice looking. I like the big red box in the middle of the page.
You can upload a file from your computer by clicking on the red box or simply drag and drop. You can also compress a file from any URL, Google Drive or Dropbox.
The best thing about this PDF compressor tool is, you can set the quality of the output PDF file.
This website claims that it maintains the privacy of your file. This also provides a tool to edit, improve your PDF file.
5. Pdf-online
Pdf-online is quite old in this online compressor list. You can easily feel it in the web interface. The web interface is quite old looking.
But you could do your task easily with this free online PDF compressor. Like other compressors on this list, you can upload a file from your computer in its web interface.
But, this website doesn't provide an option for Google Drive or Dropbox. This may be a demerit of this website.
The interface may create confusion also. So you have to aware of it. It gives you various options to compress a file. You can choose the output quality of your PDF file.
Finally, it gives the output file in the blank box present at the bottom of the page.
6. ilovepdf
Ilovepdf is another great tool to reduce your PDF file. I like the web interface of this website. It is clean and nice looking. You can easily find what you are searching for.
In the middle of the screen, you will find a big red button named Select PDF files. You can upload a PDF file or drag and drop. On the right side of the big red button, you will find the options for choosing the file from Google Drive and Dropbox.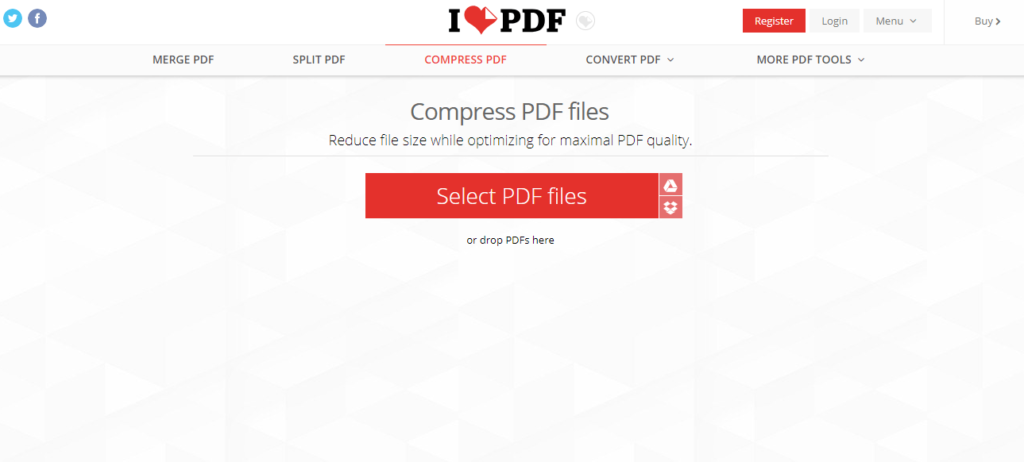 After choosing a file it will show you three options. Extreme compression, Recommended compression, Less compression. Choose accordingly and then press the black dashing Compress PDF button.
It will kick you to the next screen and you will be prompted to download the compress PDF. You can share the link to download the compressed file to someone.
7. Smallpdf
Smallpdf is also a good PDF compression tool. You find a nice looking web interface with a big red box in the middle of the screen.
You can drag or drop your file or simple upload. This also provides options for Google Drive and Dropbox options.
Scrolling down the bottom, you will find the instructions. This website also contains some paid plans. You can check it at the Pricing section.
It claims that your files will be permanently deleted from its server after one hour. No one can access your files and privacy is 100% guaranteed. You can resize pdf file to 200kb online.
Also, read – How to change Google home wake word
8 – Foxit
Foxit is a PDF service provider from Foxitsoftware. The Web interface is very user-friendly and nice looking.
If you have a heavy requirement of PDF compressor you should go for it. This website actually provides a paid desktop version. You have to pay for enjoying their services.
They only provide a 14 day trial period to test their service. You have to pay in order to enjoy their desktop version and the plan starts from $8.99/mo.
This website doesn't provide any support for the files in Google Drive or Dropbox. You have to have the file in your computer in order to compress the file.
After seeing some online methods, let's see some offline or software.
PDF Compressor for Windows
If you have heavy or regular requirement to compress PDF files then you may not intend to go for online methods.
In this case, you may go for the specific application for this need. There is some free PDF compressor for Windows you can try.
1. PDF Compressor
PDF Compressor is a free utility tool you to compress your PDF files. You can drag and drop a single file or a folder directly. It also allows you to encrypt and protect PDF files.
The application can compress thousands of PDF files at one time. This also provides lossless compression so that you will get the same quality as it was.
Download PDF compressor and starts using this. The system requirement is Windows XP/Vista/Windows 7/Windows 8/Windows 10.
2. Free PDF Compressor
Like the previous one, this is also free software to reduce the file size of a PDF file. The user interface is very basic and easy to use.
Just open the application and browse a PDF file you want to compress. Then you have to choose one of the five different compression settings. Then click on the compress.
PDF Compressor for Mac
If you are using the Mac operating system then this software will help you. If you want to install a third-party application on your Mac just to compress a PDF file, then think about that.
If you have a regular requirement of compression, then you might consider adding software in your Mac.
1. PDF Squeezer
PDF Squeezer is a good utility tool to reduce PDF size of a large PDF on Mac. This is considered as the best PDF compressor for Mac. It has a 4.8 rating in the Mac App Store.
PDF Squeezer allows you to password protect the PDF files after compression and make them secure before sending.
2. PDFOptim
PDFOptim is also a good alternative. It allows you to reduce PDF files without losing quality. There are some predefined filters you can set.
Download PDFOptim and start compressing.
Conclusion
These are some best PDF compressor online tools. In the course of life, we may sometime need it. Long PDF files are heavy to move and send to anyone. If you are looking for PDF compressor software, then these websites will do your work easily.
These tools are free and helpful if you are searching for it. Everyone doesn't like to install heavy software just for a small task.
These are some recommended PDF compressors that can compress your big PDF files into a tiny file without losing the quality.
So, next time on-word when you need to compress a big PDF file then remember these websites. You will definitely get value from it.
I am missed any best PDF compressor online tool? Comment me below and I will add to the list if appropriate.