Google apps are making life easier. Actually, Android is a mobile Operating system developed by Android Inc. But Google bought it in 2005. Now Android is governed by Google. Google released the first Android version on 23 September 2008. The official app store of Android is Play store and it contains millions of application. There is a number of apps developed by Google itself. In this article, I am going to discuss the best Google apps in the play store.
List of best Google apps for Android
Here I am going to list out some of the best Google apps that are very much useful in recent time. Although there is a number of apps developed by Google some apps are designed for a special reason.
Google Chrome for Android
File Go
Find MY Device
Gmail
Google+
Google Allo
Google Drive
Google Duo
Google Handwriting Input
Google Indic Keyboard
Google Keep
Gboard
Google Maps app
Google Opinion Rewards
Google Photos
Google Talkback
Google Translate
Hangouts
Google Goggles
Snapseed
YouTube
1. Google Chrome for Android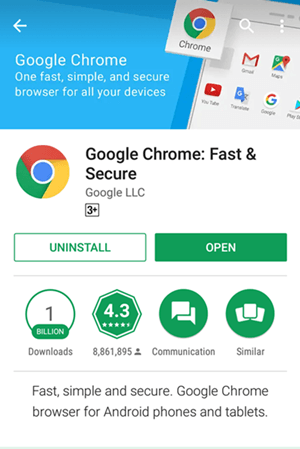 Google released the first stable version of Chrome browser on 27 June 2012. Google Chrome is a fast, easy to use, and very secure web browser for Android. It has Google search and Google Translate built-in features.
Chrome has Autofill features that can help you fill online forms quickly. Like the desktop version of Chrome it has Incognito browsing hence you can browse privately.
If you sign into chrome then you will be automatically synced across all your devices. You can access all your information from your tablet, phone or PC seamlessly.
When it comes to security Chrome has built-in features to warn you when you attempt to navigate to harmful sites to download malicious files.
Chrome gives you voice search feature you can search without typing. It has a built-in translator that helps you translate the entire webpage.
Chrome browser has a data saving mode that can save up 60% of data by compressing web pages.
With these handy features, chrome became the most popular web browser in the Android platform.
2. File Go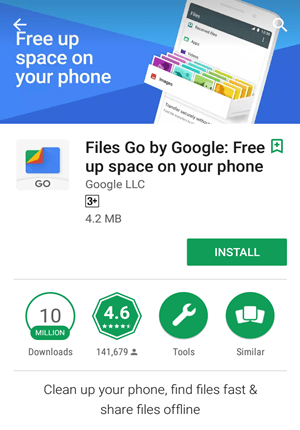 Sometimes organizing the files of phones is a burden for us. A large number of files can affect your device performance over time. Don't worry Google has given you the solution in the form of File Go app.
It is a storage management tool that helps you to free up space, find files quickly. It has also a file sharing features that allow you to share files offline.
By using this app you can delete duplicate files clear your cache memory and more.  File Go home screen shows you how much free space available on your phone and SD card. You can easily transfer files from phone to SD card, hence your phone's storage can free up.
This app organizes your files so that you can find the files much faster. Share your music files, videos, pictures or apps with a speed up to 125 Mbps without the internet connection.
File sharing is secured with WPA2 encryption provides more security.  You can backup your files to Google Drive or any cloud storage app.
Also, read – Best Android launcher apps
3. Find My Device
Sometimes we misplace our phone or the worst case it got stolen. If you have you have this app it may help you a lot. Find My Device is the new name of the Android Device Manager. It helps you to find stolen phones and tablets.
You can find your phone, tablet, smartwatch, and laptop through this app. Install the app and sign in to Google account and go.
Read the full article here.
4. Gmail
Gmail is the largest email service provider in the world. It was the first app on the play store that hit one billion installations on Android device. Gmail is one of the best Google app you can use for emails.
It is very easy to use email app. Gmail app serves messages instantly via push notification.
This app has three organized inbox categories like Primary, Social and promotional hence you can read the important emails first.
Gmail has a spam filter which keeps your inbox safe from malicious emails.
5. Google+
Google + is a leading social media platform owned by Google.
This app launched in June 2011. Features included the ability to post photos and status updates to the stream or interest-based communities, group different types of relationships.
Google+ is for connects you to other people who are interested in your passions similar to you.
Update – Google has shut down the Google+ service in 2019.
6. Google Allo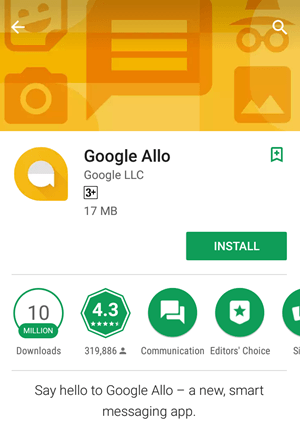 Google has developed an instant messaging app named Google Allo. It is available for both Android and iOS platform. It was released on September 21, 2016.
This app authenticates your phone number and allows you to exchange images, files, voice notes, and messages and the app has Smart Replay feature,  a virtual assistant which generates replay suggestion to the message. It learns the user's behavior to adapt its suggestions over time.
It includes virtual assistance. "Whisper Shout" is a feature that allows you to increase or decrease the size of the message.
Incognito mode allows you can send messages with end-to-end encryption.
Also, read – Best funny face video apps for Android
7. Google Drive
Google Drive is a file storage service provided by Google. It offers a website and apps for Windows and Mac computers and Android and iOS smartphones and tablets.
Google drive provides 15 GB of free storage and up to 30 TB optionally paid plans. It allows you to store files in the cloud, synchronize files across devices. You can also share files through this.
Drive supports a wide range of file format so don't worry about that. You can easily search files by name in this app.
8. Google Duo
Google Duo is a video calling app offered by Google. It was released on August 16, 2016. The duo is available for Android as well as iOS Operating system. The duo is one of the best video calling app of Google.
This Google app provides high definition video calls and it optimizes for low network strength. It allows the user to call someone from there contact list.
The new update of Duo allows you to make an audio call also. I have a "Knock Knock" feature that shows the live preview of the caller before you answer.
9. Google Handwriting Input
This app allows you to write on a smartphone or tablet. Google Handwriting Input app support 97 languages.
It also supports hundreds of emojis so that you can express your emotions over text. It can work with a stylus or without a stylus. So use your finger also.
It automatically transforms your written letters to standard digital text. You can draw emojis also.
10. Google Indic Keyboard
India is one of the biggest user bases of Android devices. There are so many native languages are spoken in India. So Google has built a dedicated Google Indic Keyboard app, especially for India.
Currently it include 11 Indian Keyboards like Odia (ଓଡ଼ିଆ), Marathi (मराठी), Assamese (অসমীয়া), Bengali (বাংলা), Kannada (ಕನ್ನಡ), Gujarati (ગુજરાતી), Hindi (हिंदी), Malayalam (മലയാളം), Punjabi (ਪੰਜਾਬੀ), Tamil (தமிழ்), and Telugu (తెలుగు).
It supports different modes of input like Native keyboard mode, Handwriting mode, Hinglish mode, Transliteration mode.
This is not a simple task, as a single native word can have multiple English-alphabet variations.
To enable as it defaults to keyboard
Go to Settings -> Language & Input -> Keyboard and Input Methods.
11. Google Keep
Sometimes we forget some important work in the rush of life. Some quick ideas have arrived in our mind every day and we have not a pen and notebook every time to write those ideas.
Thanks to Google for the Google Keep app. Now you can make a quick note through this app. It is available on the web as well as Android and iOS application.
Google Keep allows you a variety of tools for taking notes. It includes lists, text, photos and voice recording can be automatically transcribed.
It has reminder features that remind you when you set the task.
12. Gboard
Gboard is a virtual keyboard app offered by Google. It was released in May 2016. It is a lightweight and fast keyboard comes with unique features.
The most famous features of Gboard is the built-in G button. It allows you to search your queries instantly.
You can type faster by sliding your finger from letter to letter on the keyboard. It is the most advanced keyboard application in the market.
Gboard has built-in search for emojis and GIFs so that you can find the right one quickly.
If you want to type with one hand you can use Hand Mode to type easily. Currently, it supports 100 different languages.
13. Google Maps app
This is one of my favorite apps. Google Maps is a navigational app offered by Google. It is available for Android and iOS operating system. This is a revolutionary app.
After the release of this app no need to ask someone the way to your journey. Unknown roads are no more. This app gives the world in your hand.
You can get real-time navigation, traffic and many more. No need to discuss the features of the Google app because you already know them.
14. Google Opinion Reward
This is the only Google app that gives you money by completing surveys. But you can spend this money on buying apps from the Play Store. This Google app pays you for your rewording.
This may be a good way to buy paid apps from the Play Store. By answering quick surveys you can earn Google Play credit.
Simple, just download the app and answer basic questions. You can earn up to $1 in play credit for completing surveys. You will be notified when new surveys available for you.
15. Google Photos
Photos say a thousand words. Google photos is a photo storage and sharing the app by Google. You can easily backup photos and videos.
The photos you backed up can be accessed from anywhere anytime. Your photos are safe and secure.
Is your phone have less amount of space, don't worry back up your photos to Google photos and delete the photos from your phone. Never run out of space on your phone.
This app also allows you to edit photos and enhance the look of photos.
16. Google TalkBack
Google TalkBack is an accessibility service specially designed for blind and visually impaired users. It helps them to interact with their devices.
TalkBack comes with most Android devices as a pre-install app. It uses the user's spoken words, the vibration of your device and other audible feedback to let you know what's on your screen, what you're touching on the screen.
To say frankly, TalkBack is a god gift app for visually impaired people.
17. Google Translate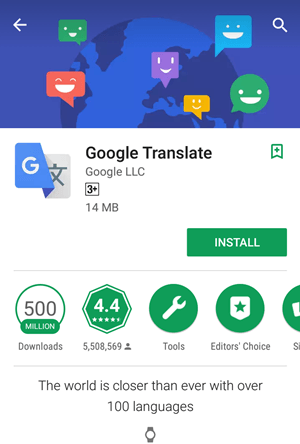 Language is a medium of communication. Sometimes it creates a burden between two different language people communication. You may face some difficulty in a place where the language talked you don't know. Don't worry Google translate is for you. Google translate is a language translation service developed by Google. This one of the best translation app you can use.
Google translate support over 100 languages and serves over 500 million people daily. It also used European Parliament and United Nations transcripts to collect linguistic data.
It also translates 59 languages when you have not connected to the internet. You can also translate by using your camera. Just click a photo of text and it will instantly translate.
Also, read – Best 3D animation apps for Android
18. Hangouts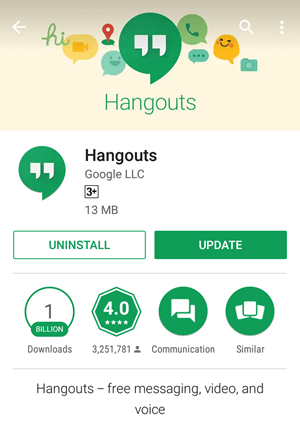 Google Hangouts is a communication app developed by Google. It allows you to message, video chat, and voice call through this.
It includes Google Talk and Google voice in it. Hangouts have an app for Android and iOS platform and a web version also.
Hangouts allow users to make voice calls to other Hangout user and landline calls to the USA and Canada for free.
19. Google Goggles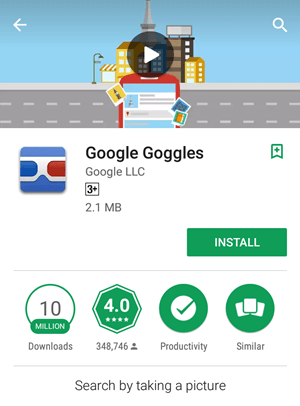 Google Goggles is an AI (Artificial intelligent) base app. Just click a picture of any famous landmark, any paint, etc. it will show you all the information about this.
Goggles can also work as a barcode / QR code scanner. Just scan a code and it will show you the product details of that particular item.
When you are in foreign it will help you a lot. You can translate by taking a picture of foreign language text and Google Goggles will translate it to your native language. So just you will not face any trouble for recognizing the signboards and hooding's in the foreign language.
Beyond these, you can add Contacts by scanning business cards or QR codes, Solve Sudoku puzzles very easily.
20. Snapseed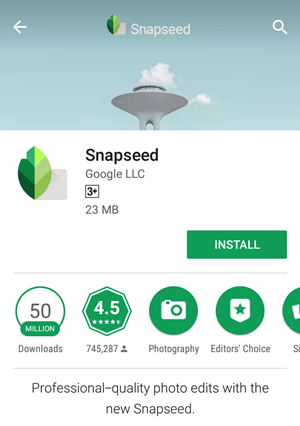 Snapseed is a photo editing app owned by Google. Actually, Snapseed developed by Nik Software, latter it acquired by Google. This is one of the best photo editing appGoogle.
It is available for both Android and iOS platform and it has a number of filters and tools like HDR, Brush, Healing, Structure, etc.
You can enhance the look of photos by editing it in the Snapseed app. If your phone has space then download it and enjoy right now.
21. YouTube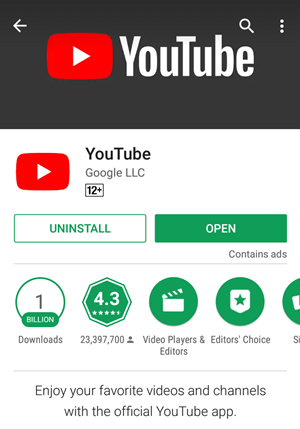 YouTube is a video sharing platform owned by Google. It is the largest video sharing platform in the world. It is one of the best video sharing app.
YouTube allows users to upload, share, view, like, comment, add to favorite videos. Every day billions hour of contents are watched on YouTube.
Day after day it is growing very rapidly and adding new features to the platform. It has a web version as well as the Android and iOS platform. No need to talk much about it because you already know it very well.
Conclusion
There is a big list of Android app developed or owned by Google. But many apps are designed for special regions. In this article, I figure out the best Google apps for the Android platform. You may know most of the app in this list or even use of the apps. From the list chose the app that you think helpful to you. These apps may help you in the day to day life.